E-mail us
About the announcer – Bill Dance
Judy and I are very fortunate to have friends like Dianne and Bill Dance. I do not know of a more normal "down to earth" person especially considering he is a celebrity.
Charlie Tripp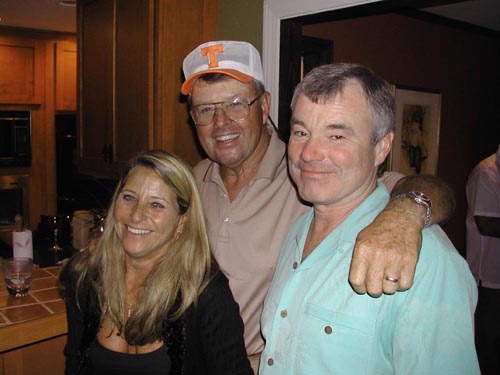 left to right - Judy Tripp, Bill Dance, Charlie Tripp
An Outdoors Legend
Bill Dance is an outdoors legend. For over 30 years, he has delivered fishing advice on television in his humorous, off-beat way. To the avid fisherman, Bill represents the best that fishing has to offer. Even for people who don't know much about fishing, Bill Dance is the one name that stands out.

Tournament Information: 23 National Bass Titles; Bassmaster Classic Qualifier 8 out of 9 years and finished 2nd in 1973. Three time B.A.S.S. Angler of the Year - 1970, 1974 & 1977. Of 78 total B.A.S.S. entries, finished 64 times in the money. 7 wins, 8 times runner up, 6 third place, 40 top ten finishes (51% of tournaments entered) and 51 top 20 finishes (65%). In first 11 tournaments, was only out of the top 7 once. Won 7 of the first 17 events entered (41%).
• Retired from competition in 1980 at the age of 39.
• Credited with catching the first bass in B.A.S.S. history.
• Credited with popularizing the "Carolina Rig".
Other Awards: 1978 Congressional National Water Safety Award [Past Recipients: Lloyd Bridges and Jacques Cousteau]; US Army Corps of Engineers Commander's Achievement Award for Water Safety, 1999. Inductee: National Freshwater Hall of Fame, 1986, Professional Bass Fishing Hall of Fame, 2001, and inducted into the International Game Fish Association Hall of Fame, 2006. National Water Safety Spokesman for the US Coast Guard, 2005. Male Professional Athlete of the Year, Tennessee Sports Hall of Fame, 2006. President's Award, National Association of State Boating Law Administrators (NASBLA).
Favorite Lake: Pickwick Lake, TN - Biggest Fish: (Bass) 14 lbs. 1 oz.
Books: Bill has written seven books; Practical Black Bass Fishing; There He Is (The Art of Plastic Worm Fishing); Techniques on Bass Fishing; and Bass N' Objects, and his latest books, titled: Bill Dance on Crappie and Bill Dance on Largemouth Bass. His articles have been published in most major outdoor magazines including Sports Afield, Field & Stream, Bassmasters, Outdoor Life, etc.
Newspapers: Over many years, Bill's accomplishments, techniques and uncommon fishing savvy have been regularly publicized by the outdoor editors of most metropolitan daily newspapers across North America. It still happens today and Bill is a monthly columnist for Mid-South Hunting and Fishing News.
Television Career: "Bill Dance Outdoors" has aired since 1968 with over 2000 shows in its history. Bill has produced over 36 educational videos and 12 audio educational tapes on a variety of subjects. His 3 hilarious out-takes shows or "Bloopers" have been aired all over the world. Bill Dance Outdoors currently airs 5 times weekly on the Versus Network (formerly OLN) as follows: Saturday at 9:30 a.m., Sunday at 1 p.m., Monday at 10:30 a.m., Tuesday at 12 noon, and Friday at 10:30 a.m. All times are Eastern.
List of Sponsors: Bass Pro Shops, BSX/Biosonix, Blue Lizard Suncream, Chevrolet Truck Division, Tracker Boats, Frost Cutlery, Gamakatsu Hooks, Gerbing's Heated Clothing, Johnsonville Brats, Lindy Little Joe, Lowrance Electronics, Mercury Marine, Motorguide Trolling Motors, Stren, Pennzoil, Piano Molding Company, Pradco Lures, Heddon, Bomber, Excalibur, Yum, Arbogast, Rebel, Cordell, ProCraft Boats, Progressive Insurance, Rugged Shark Shoes, Zebco/Quantum Corporation, Diamond Feeders, Tennessee Wildlife Resources Agency, Tennessee Tourism and Porcupine Fish Attractors.
Promotional Work: Sea World, Rancho Shocks, Cypress Gardens, Champion Spark Plugs, "Catch a Dream", Sara Lee, Kroger Food Chains, Tyson Foods, Evan Williams Distillery, Anheuser-Busch, American Heart Association, American Cancer Society, Arthritis foundation, "Make a Wish", Dreams Come True, Du Pont (Agri Division), Banquet Foods, Underwood Meats, Bryan Foods, Keebler Company, Children's Museum, Ducks Unlimited, Versus Network (formerly OLN), St. Jude Children's Hospital, U.S. Forest Services and Tennessee Department of Tourism.
To learn more about Bill Dance please visit this website:
http://www.billdanceoutdoors.com/
To see how enjoyable he really is check out some cuts from Bill Dance Bloopers:
http://www.metacafe.com/watch/78687/bill_dance/
To order Bill Dance Bloopers Volume 1 & 2:
http://www.lurenet.com/productDetail.aspx?id=VBDD1
To order Bill Dance Bloopers Volume 3:
http://www.lurenet.com/productDetail.aspx?id=VBDD3